Each designer/client relationship is as unique as the people involved. Both parties are responsible for maintaining a good relationship. I approach each project with the ultimate goal of giving the client what they want and keeping them happy along the way. A few things help make a good designer/client relationship.
Communication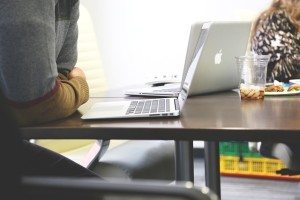 It's not that much different than any other relationship. To have successful designer/client relationship you need to have the following: good communication. With so many ways of communicating it's still amazing to me how it can fail us sometimes. It's not because of lack of ways to get in touch—instant messaging, texting, email, and old-fashioned talking on the phone. Yet, we have difficulty getting our message across.
Good communication means clear communication. Though that's not always easy with today's technology. It's no fun trying to decipher an auto-corrected message.
If a client makes an unreasonable request, the designer should be able to let the client know. If the client is being ignored, that's bad business.
Ask questions!
No one should ever feel uncomfortable asking a question. When you do a job long enough you may forget that not everyone understands every aspect as well as you do. When I notice I'm starting to get a little technical I usually say "let me know if there's anything you don't understand." I believe a well-educated client makes for a happy client, but I do know they don't necessarily have to know an SSL from an ISP to get their business online.
Understanding working styles
I pride myself on having a friendly working relationship with all of my clients. I'm a working mom so my schedule is often determined by my daughter's. My clients understand this and know I'm usually not as available in the late afternoon. I make myself available after regular working hours as well. I understand that many of my clients can't spare time during the day and later into the evening works better for them.

 I prefer to communicate through emails. It's easier for me to review changes and if I have questions I can reach out right away. Some clients like to talk over the phone and so that's the way we keep in touch.
Provide feedback!
Neither side should feel that they cannot express their honest opinion. My goal is to provide and produce projects that meet or exceed the client's expectations. If they aren't happy, I need to know why. It's better to know in the early stages that the designer is going in the wrong direction. Many, many hours are dedicated to every project. Correcting the course at the beginning is preferable to trying to reverse direction in the later stages.
What makes a good designer/client relationship
A client/designer relationship that plays to the strengths and concerns of the parties involved is ideal. Therefore a client should never feel that they are a "bother" or a "pest." A designer should feel empowered to find solutions and direct the design of the projects.