In this time of social media and digital platforms business cards may seem a bit quaint and old-fashioned. However, don't overlook the potential of connecting with a new prospect on a personal level. Digital tools can lack the human factor of the equation. A well-designed business card is a tool for giving your information. There are several aspects that are important when considering what to include on your business card. Here are some business cards basics for success.
What makes a good business card
A successful business card is an extension of your brand. It's essential that it conveys the right information about who you are and what you do in a memorable and meaningful way.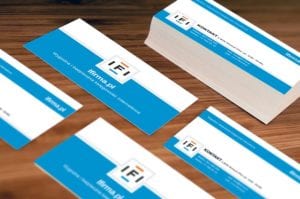 How do you transform your business cards from a scrap piece of paper that people throw away as soon as they get home, to a powerful connection that draws prospects to your business? Don't overlook investing in good quality paper and printing. Modern design now go beyond the standard size to square and over-sized cards. Different finishes are available as well, like gloss and matte that can add another dimension to your cards.
Once you have the design, here are elements to include:
Logo and Tagline
Be sure you include your logo and tagline. Your business card as well all your promotional materials are an extension of your brand. It needs to convey your business identity. This can be accomplished through the colors, fonts and words it features.
The goal is that when someone sees your business card they can identify your brand and going forward recognize wherever they may see it in the future. Whether that's on your website, an event, your newsletter, or even a brick-and-mortar store or studio.
Name and Job Title
Your business card serves to introduce you to people who may be interested in talking to you. Use the name you want everyone to use. Don't worry about being formal. Your birth name is Susan but you like to be called Suzy, then use Suzy on your card.
As small business owner you wear many hats in your business. Use the title that describes your main function in the business. I have received cards at conferences and networking events that don't say what the person giving me the card actually does. Don't use a title that sounds fancy, it's rather unhelpful.
The goal of business cards is to create a personal connection between you and prospects. Make sure you give your direct contact information. Your business phone, email and social media. Keep your personal information private.
Your Website, But Not Your Homepage
Sending new prospects to your homepage is not the best idea. They have already made a connection with you, if they are going to your website it seems obvious they want to connect further. Instead, create a landing page with a welcoming message or an introductory video. This will allow people get to know you and learn how you can help them.
This would be a great place to extend a special offer, discount code and/or a free download for connecting with you. Ask for their email address to add to your mailing list.
Keep the URL short and easy to type. People will be much more intrigued to check out "domainname.com/magic" rather than a bland link to "domainname.com/landing-page."
Social Media Profiles
In general, it is a good idea to include your social media profiles on your business card. Another good idea—list your strongest profiles, not just all of your social profiles. If you post often to Facebook, include that channel. You find Instagram to suit you better, then make sure you send potential clients there.
Remember, if you're not on social media, you don't exist in the eyes of your customers. 
Give prospects the opportunity to connect with you, but do not overwhelm them with your presence.
Be Creative!
The design of the card should show people what you do, what you're all about. It seems like a lot to ask of a small piece of paper, doesn't it? Look at examples of card design, especially in your industry. This guide will introduce you standard sizes.
If you can't think of any good ideas for custom cards yourself, don't worry. You can always get a designer to help you create something unique and custom.
In conclusion, the business card basics for success has given you all the elements you need to present you and your business in the best light possible. Every opportunity to make a connection is vital to your business.Ensure the impression you make is a powerful and memorable one.