As a design professional for over 25 years, I unfortunately have heard stories from clients of bad experiences with other graphic designers. It always makes me frustrated and sad to hear these stories. Usually, I become very protective of my clients and I don't like thinking they have gotten taken advantage of. Even if it happened before they met me. I also get angry because bad behavior reflects badly on all of us in the design field. There are some people you shouldn't do business with. That's why I'm writing this post, to make up for those who take advantage. Designer red flags that you should watch out for. If you encounter any of these situations, say no thanks and move along.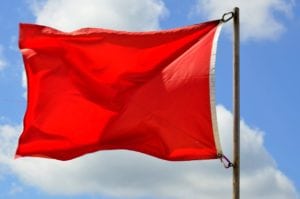 Design Red Flag #1: They want all the money upfront
Requiring a deposit before work begins is standard procedure. The amount of the deposit can vary. It's also not unusual for it to be non-refundable. This is my policy. I usually do some amount of research before I begin any project. The deposit helps cover some of my initial time spent before actual work begins. However, if you are asked for all the money upfront, be wary. This gives you no recourse if the project goes badly or is left incomplete. Instead, try to negotiate a deposit you are both comfortable with.
Design Red Flag #2: The designer can't provide an estimate
If a designer can't give you an accurate estimate of cost, that usually due to one of the following factors. One: They don't understand the full scope of work. Two: they lack experience in this area of work. Or 3: they themselves can't do the full scope of work and plan to outsource therefore can't estimate how much it will cost. None of these factors is a good thing.
Design Red Flag #3: They are difficult to reach
This is a very common issue. I've had many clients remark how quickly I respond to their inquiries. It's something they are not used to. A responsible designer will get back to you within a reasonable amount of time, especially if the matter is urgent. They will also let you know in advanced that they will be unavailable for a certain period. If two weeks have gone by and still no response, that's a definite design red flag.
Design Red Flag #4: Only focused on design
Now that might seem counter-intuitive that a graphic designer is too focused on design. However, a successful design projects goes way beyond colors and fonts. A competent designer should ask about your business, your target audience, have a good understanding of what your goals are and what the project should achieve. You want to make your business move forward and only a designer that understands how to make that happen will be able to produce a successful design.
Design Red Flag #5: Making certain guarantees
I'm sure you've seen the email promising first-page on Google, thousands of visitors to your site a month or thousands of new leads. Guaranteed success is almost impossible to accomplish. No one can control the actions of strangers, or predict your preferences and input. Few designers control marketing and sales. Or are able to have the context in which a potential customers interacts with your brand. Without controlling the online marketing or the entire lead generation process a graphic design cannot make any of these types of guarantees. They are probably just telling you want you want to hear to get your business.
Design Red Flag #6: They don't have a portfolio
This is a HUGE designer red flag! It either shows they don't have much experience or aren't very proud of their work. A great web designer should have a great website. A great print designer should have lots of promotional samples to show you. Same with a logo designer, they should be able to show you examples of their work. Makes sense, right?
With a little due diligence from the start, you can spot these designer red flags before they turn your design project into a design nightmare. A reputable designer should have a substantial portfolio and customer testimonials. I would love it to be me, but I'll be happy if you don't get ripped-off by anyone else.