Mindful Living Solutions
Dr. Donna Carrazzone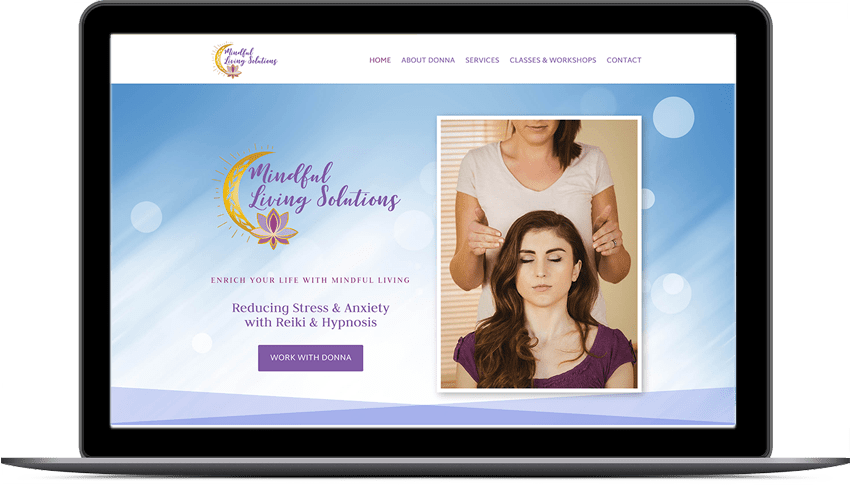 Mindful Living Solutions
Tranquil and soothing designs
The first part of this project was the logo and business card design. Donna was preparing for an upcoming conference and wanted to be able to hand out cards to promote her services. As a client, Donna had a vision of what she wanted in her logo design, even providing a sketch. After a few initial designs, I started concentrating on variations of a moon and lotus image. The lotus was kept simple in consideration how small it might get on a business card design. As different colors were introduced Donna made a comment about purple being a royal color, so I decided to incorporate some gold into the design to play up that idea. To add visual interest, I made the gold shinny instead of flat. Eventually, the colors and elements were finalized. A visually pleasing branding design has a positive effect on current and potential clients.
Once the logo and business card were finalized it was time to move onto the website. Donna is a Reiki Master, Hypnotherapist, and Certified Advanced Holistic Nurse and wanted to promote her services. Usually, the logo does provide a general color scheme to the website. Whether the colors are complimentary or contrary the logo is an important piece of the puzzle. The lotus element of the logo was used as a graphic, pulling the logo design into the site. Donna wanted to incorporate photo of her healing room to personalize her site. The photo of the room gave me more insight into the overall calming feel that she provided her clients. That influenced the images I used on the site. I kept the image soothing and tranquil.
Maybe it's just me but there's nothing quite like seeing a well-designed and colorful brand come together!
View My Work!