Voice of the Soul Healing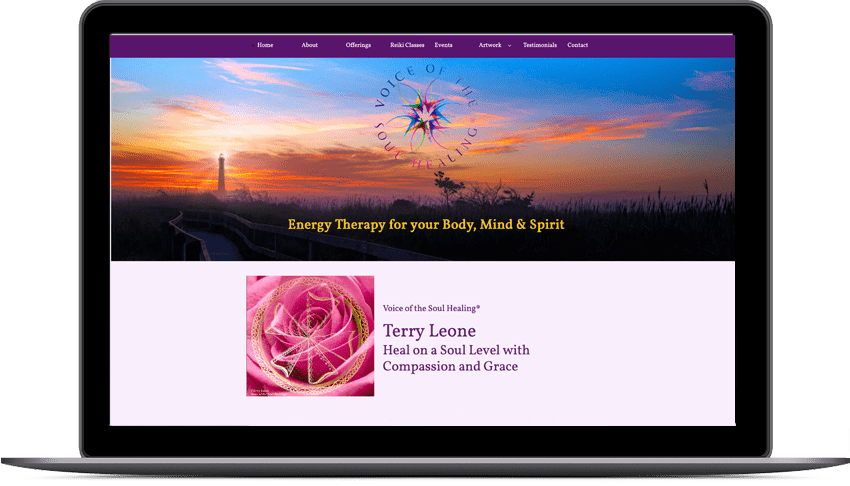 Voice of the Soul Healing
Let your voice be heard!
One of the first things I noticed about her former site was that there's was almost no information about Terry on the homepage. The homepage provided great info on Reiki but a visitor wouldn't' know right away who was providing those services. It's vital that visitors know who you are right away. A short introduction to your services and philosophy, photos of you and having your name in a prominent place help accomplish this.
The goal was to redesign the Reiki website to evoke warmth, calmness and peace, that highlighted Terry's expertise, drew the attention of the visitor and provided them with a compelling reason to take action. To provide this experience, the homepage needed to be redesigned so that it highlighted Terry  and not just Reiki in general.
Usually with website redesigns, it's a matter of reorganizing the content that is already there to improve the flow. The navigation was simplified and organized into main menu items and sub-menus. The web pages were switched to white backgrounds with more white space. The site was also designed so that it would be full-width. Often this reorganization and simplifying goes a long way to refreshing the look of the website.
Terry's photography was used extensively throughout the site, not only to promote her photos but to add visual interest to the site. Her art is highlighted as well. The pages that feature her artwork were updated with new pieces.
Now Terry has a site that puts the focus back on her services and artwork as it should be.
View My Work!